Wednesday, October 27, 2010 at 10:58PM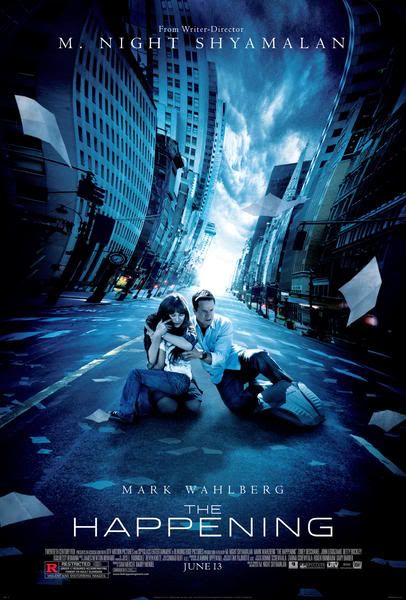 Good evening, folks, and welcome to Day 6 of Seven Days of Shyamalan. We've done Wide Awake, The Sixth Sense, Unbreakable, Signs, The Village and Lady in the Water, so be sure to head back and read those recaps if you haven't already. As always, this feature is meant to study the strangest downturn in the history of film by recapping the selected filmography of one M. Night Shyamalan.

And today, I'm going to be talking about 2008's The Happening.

It's hard to write about The Happening in the same manner as I would The Sixth Sense or Signs or even The Village. This movie is a total farce from beginning to end, so it's hard to recap the events of the film without commenting on what I'm writing. This won't be a straight-laced written depiction of what happened, so just read on with that in mind.

The Happening begins in Central Park, New York City (giving the audience hope that we'll be able to stay away from Philadelphia for once) where two women are talking about a novel. One of them hears what sounds like a child screaming, and notices that everyone walking by has suddenly stopped in place. Then her friend stabs herself in the neck with a hair pin. Spooky foreshadowing or audience wish-fulfillment? You decide.

Then we cut to our main man, Elliot (Mark Wahlberg), a science teacher in Philadelphia (son of a bitch). He's lecturing his high school students about how weird it is that a bunch of bees disappeared, and asks them for possible reasons. One student poses that maybe it's not for us to understand, and that if nature has as plan, we should be in awe of it. Elliot starts to agree, because he doesn't know anything about science, but he's cut short by the assistant principal, who drags him into the auditorium with all of the other teachers. There, the principal is telling everyone that there's been some sort of biological attack in Central Park that makes people kill themselves (the movie offers up some nonsense about blocking brain receptors, but it doesn't really matter). They're sending everyone home until it all blows over. Elliot says goodbye to his students and tells them to say hi to their mothers for him.


Before he gets out of his classroom, Elliot's co-worker Julian (John Leguizamo) shows up, and tells him that his mother has a house out in the country, and that if Elliot and his wife Alma want to tag along with him, his wife and his little girl, they're more than welcome. Elliot calls up Alma (Zooey Deschanel), and they decide to meet up at the train station.

On their way out from school, Elliot and Julian discuss how Alma's been really distant lately, and Julian reveals that he walked in on her on their wedding day, and that she looked really sad. Now Elliot is sad. Thanks a lot, Leguizamo. You dick.

Meanwhile, over at Elliot's house, Alma is avoiding phone calls from someone named Joey. Elliot is not named Joey. The suspense builds and then explodes into nothingness when Elliot barges in like a damn idiot asking if Alma's ready to go. She is. They leave.

They all meet up at the train station, but Julian's wife isn't there. She'll meet up with them later. Alma and Elliot have a fight about Julian knowing that something's up, and that Elliot revealed that she's been "distant." Alma decides to sit alone on the train because she's angry, and Elliot looks sad again.

I know it seems like I'm just listing things, but that's because there's no emotional content to be found. The plot is just kind of drunkenly stumbling forward. Maybe that's why this movie's called The Happening.

On the train (side-note: I've ridden those SEPTA trains, and let me tell you, they never looked this clean), Alma finally answers one of Joey's calls. She yells at him that she feels like he's stalking her, and that it's going to turn into Fatal Attraction. They had dessert, and that's all, she exclaims. Joey says, "But-" and Alma hangs up on him. Luckily, that's the extent of M. Night Shyamalan's acting in this movie.

Julian dials his wife up, but can't hear what she's saying. He gets a text that she's in Princeton, New Jersey to pick up a gift for their daughter. You'd think she'd have the sense to save that for after a terrorist attack, or that she'd be able to find a gift that isn't in fucking NEW JERSEY, in a town that's closer to New York City than Philadelphia, but you know what? Fuck you and your logic.

Shit gets worse (for the characters in the movie, at least - I'm not sure if it's possible to get worse for us) when the train stops randomly in some small Pennsylvanian nowhere town. The train conductor lost contact with everyone, so they decide to just maroon everyone out in Hicksville. Just rolling with it instead of rioting like you KNOW people from Philly would, all of the passengers go to a nearby diner to eat and spread paranoia. After some iPhone product placement, we find out that this biological attack is affecting every city on the northeast. Basically, the message is this: get west or get fucked.

Everyone scrambles to hitch a ride out west from the locals who have cars, but Elliot and Alma are having trouble finding someone to cart them
. Eventually, a pretty rapist-y looking botanist and his wife offer them a ride, and even promise seats for Julian and his daughter, but Julian's got other plans. He's going to let his daughter ride along, but he's going to hitch a ride with this other Jeep that's headed to Princeton so that he can track down his wife. It sounds like a bad idea, but the Jeep's actually being driven by Brian O'Halloran (Dante from CLERKS), so it might be a good time after all.

It isn't. When they hit Princeton, they see that everyone's hung themselves from trees, and it gives one of the girls in the Jeep bad vibes. Dante solves this by driving at full-speed into a tree, killing everyone but Julian, who grabs a shard of glass and stabs himself in the face with it. Clearly actors will do whatever it takes to get the hell out of this movie.

Meanwhile, Elliot, Alma and Julian's daughter are riding along with the botanist and his wife. The botanist seems to think that this might have to do with plants - they can communicate with any species of flora, so they might all be in on it together. As plants. Then he asks them if they like hot dogs. He likes hot dogs. They're underrated, he says. Elliot looks confused, by Alma kind of looks like she wants a hot dog. I'm not making this up. I feel like I need to say that.

They keep driving until they hit a four-way intersection. Off on one road, they see a military vehicle pulling up. Out pops a freaked-out soldier who tells them that they can't go the way he came from - everyone there is dead. Then another driver comes from another road, and says the same. Then it happens again with the other road. Everyone hangs out at the intersection for a bit until the soldier tells them about a nearby county where there aren't many people - they might be safe from an attack there. So they hoof it over this field until a strong wind passes by and people start killing themselves. People start yelling at Elliot, asking him what they should do, and he has a small panic attack.

He eventually comes up with the idea that the wind is carrying the toxin, but that the plants are releasing it based on the amount of people around. Because the plants know, he says. So he suggests they all split up into small groups and try to make it on their own. The group is now Elliot, Alma, Julian's daughter, and a couple of high school kids. They end up coming across a model house, but everything's plastic, so they can't grab any useful supplies. They keep walking until they come across another house. It looks kind of beat up, but there are actually a couple people living there. They ask to come inside and get food for Julian's daughter, but the guy inside the house tells them to get their diseased asses outta there. The high school kids take great offense to this, and start kicking the door, trying to force their way in. Then the guy in the house shoots them in the chest and face, respectively. Elliot, Alma and Julian's daughter decide to leave the bodies and keep walking.


Some time before this, Alma had revealed to Elliot that she'd had dessert with some man named Joey. It never went further, but she felt bad about it, and wanted to tell him in case they died. Elliot looks sad again, and I think about getting a hot dog.

Then they find Mrs. Jones' house. Mrs. Jones is easily the weirdest thing about The Happening. When Elliot sees her on her porch, hanging out, she immediately tells him that she doesn't care about what's going on out in the world, and that he best not tell her nothin'. Then she yells at him that she has to make them dinner. During the meal, she slaps Julian's daughter and tells them to stay the night. They comply.

Alma expresses concern about Mrs. Jones' mental health. Elliot walks out into the hallway, and there's Mrs. Jones. She hears them whispering. She bets that they're going to steal something. Elliot tells her they're not going to steal anything. Then she bets they're going to try and kill her in her sleep. Elliot tells her they're not going to kill her in her sleep. Then Mrs. Jones goes to bed.

The next morning, Elliot wakes up and puts on a shirt that he didn't have with him the day before, but must have gotten at one of the various outlets available in Nowhere, Pennsylvania. He walks around the house, trying to find Mrs. Jones, thinking he sees her lying down in one of the downstairs bedrooms. As he walks in, though, he sees it's just a doll. Then Mrs. Jones springs out from behind a corner and starts screaming at him to get out of her damn house. Elliot follows her out the door, but then a strong wind goes by, and Mrs. Jones starts exhibiting signs that she's infected.


Elliot closes the door and hides in the house, but it's no use - Mrs. Jones starts head-butting the glass windows, impaling her own face with shards of glass. It's pretty awesome, but Elliot's a pussy and can't appreciate this kind of stuff. He starts looking around for Alma.

He hears her voice, but when he goes to the storage room, he realizes that she's actually in the carriage house across the field. There was a noise-pipe set up in that room that leads to the carriage house so that it people on either side can hear each other like they're right next to each other. Elliot yells at Alma and Julian's daughter to close the door and windows, because the toxin's heading for them.

Elliot and Alma come to terms about the Joey thing from before and make up. Then Elliot decides to cross the field, not caring if he died, because it'd be better than being apart from the person he loved. Alma decides to meet him in the middle, putting Julian's daughter in terrible danger in the process. Luckily, they don't die from the toxin. The threat's over.

Three months later, Elliot and Alma have adopted Julian's daughter, and Alma is even pregnant. Things seem to be going pretty okay. Some people on the news argue about what the attack was. One of them postulates that it was nature sending us a warning about our threat to the planet. The other guy laughs it off.

Then the same damn thing starts happening in France. The end.


In case you couldn't tell from that recap, The Happening is awesome. It's an absolute joke from start to finish, no matter what Shyamalan's intentions were. I'd like to think he knew he was making total schlock, but even if he wasn't, this movie is a riot. Within a few minutes, I was already laughing my head off at Wahlberg's acting, and I never felt like it was becoming too much. There's good, and then there's bad, and then there's so-bad-it's-good. The Happening is most definitely so-bad-it's-good.

There's really not much else to say. There's no great artistry going on here, and The Happening's faults (of which there are many) only enhance the already-hilarious viewing experience. I loved it. Seriously, invite a few friends over, pick up some beer and watch The Happening on a lazy weekend. I dare you to not have a good time.

So that's The Happening. Come back tomorrow for The Last Airbender!
CROSS|TAWK
|
3 Comments
|
7 References
|
tagged
seven days of shyamalan